The Minuteman Emergency Assistance Fund (MEAF) is a benefits program receiving funds from the Minuteman Fund of Washington.
Where is the money going?
2020 MEAF Grant Summary
Grants amount requested in 2020: $14,390.02
Grants amount approved in 2020: $9,776.67
Number of grant requests in 2020: 12
Number of grant requests approved in 2020: 9
2020 Approved Grants by Category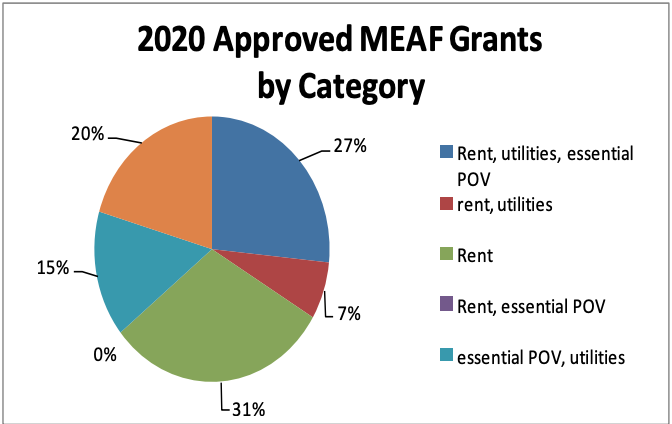 *Reduced Activity Due to COVID-19 Pandemic
2019 MEAF Grant Summary
No Activity due to lack of funding
Combined Federal Campaign
Combined Fund Drive
Corporate sponsors
Individual contributions
What does the MEAF cover?
Rent
Food
Clothing
Utilities
Essential privately owned vehicle
Loss of funds
Medical, dental or hospital expenses
Non-receipt of pay
Funeral expenses for dependents
Emergency travel expenses
Fire or disaster
What impact does the MEAF have on Washington Families?
Minuteman Fund of Washington
EMERGENCY ASISTANCE GRANT PROGRAM
Impact on Washington Families
2020 = $9,776.67 helped 9 Washington families in need
2019 = $0 lack of funding
2018 = $15,108.05 helped 12 Washington families in need
2017 = $22,532.56 helped 21 Washington families in need
2016 = $17,122.44 helped 115 Washington families in need
2015 = $9,115.00 helped 35 Washington families in need
2014 = $29,791.62 helped 58 Washington families in need
2013 = $51,417.37 helped 91 Washington families in need
2012 = $114,939.24 helped 205 Washington families in need
2011 = $57,073.84 helped 107 Washington families in need
2010 = $31,276.96 helped 68 Washington families in need
2009 = $90,294.32 helped 181 Washington families in need
2008 = $53,553.92 helped 107 Washington families in need
2007 = $29,843.51 helped 63 Washington families in need
2006 = $28,122.27 helped  54 Washington families in need
2005 = $30,371.80 helped 64 Washington families in need
2004 = $27,570.00 helped 61 Washington families in need
2003 = $13,513.33 helped 37 Washington families in need
2002 = $21,287.22 helped 48 Washington families in need
2001 = $20,915.00 helped 61 Washington families in need
2000 = $16,329.50 helped 39 Washington families in need
___________________________________________________________________
TOTAL NUMBER OF FAMILIES (1997-2020): 1,502
TOTAL MEAF GRANTS (1997-2020): $717,437.60
Soldiers and airmen needing emergency assistance can contact a Family Programs Specialist during normal business hours:
Camp Murray / Puyallup / Bonney LakeJSS Bldg 3 Camp Murray
253-945-1869 / 253-355-5124
Moses Lake6500 32nd Ave NE, Moses Lake 98837
509-630-0701 
Pasco127 W Clark St. Pasco WA 99301
509-545-2031 / 253-355-5936 
Kent / Redmond24410 Military Road, Kent 98032
253-512-8766 / 253-208-8602 
Yakima2501 Airport Lane, Yakima 98901
509-469-4638 / 509-844-4059 
Tacoma / Camp Murray / JBLMJSS Bldg 3 Camp Murray
253-512-8367 / 206-473-2896 
Marysville / Smokey Point / Bellingham13613 40th Ave NE Marysville 98271
360-436-2423 / 253-355-6388 
Port Orchard / Bremerton
360-874-2966 / 253-254-1906
Olympia / Centralia515 Eastside St SE, Olympia 98501
360-704-6707 / 360-628-7195 
Tacoma / Camp Murray / JBLMJSS Bldg 3 Camp Murray
253-512-8367 / 800-364-7492 
Pierce County Readiness CenterPierce County Readiness Center Camp Murray
253-512-1350/ 253-254-1906 
Vancouver / Longview15005 N.E 64th St. Vancouver 98682
360-604-7373 / 360-355-6239 
Your donations help our soldiers and airmen
in times of financial crisis and personal challenges